The Roads and Transport Authority (RTA) in Dubai is set to reintroduce the marine transportation line via the Dubai Ferry, connecting Dubai and Sharjah starting Friday, August 4th, 2023. This move comes as a collaborative effort between Dubai and Sharjah to provide additional mobility choices between the two emirates, alleviate traffic congestion, and promote safe maritime transport along their extended coastal areas. With 8 daily journeys on weekdays and 6 on weekends, the Dubai-Sharjah Ferry service is a much-awaited solution for commuters seeking a convenient and efficient means of travel between the bustling cities.
Water Transport Between Dubai & Sharjah in August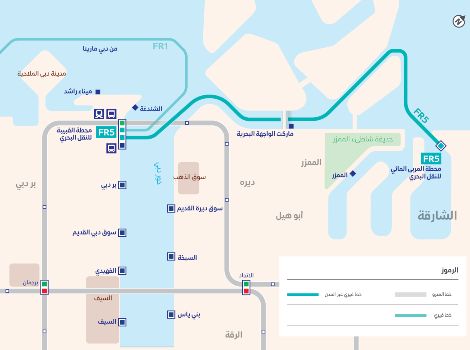 Table of Contents
The reinstatement of the Dubai-Sharjah Ferry service represents a monumental step towards revolutionizing inter-emirate transportation. Commuters can now enjoy seamless connectivity between Dubai and Sharjah, benefit from reduced travel time, and avoid the hassles of road traffic. With sustainability at the forefront of the initiative, the ferry service promotes eco-friendly commuting options, supporting Dubai's vision of a greener, more efficient future. As the Dubai-Sharjah Ferry sails once again, the UAE's commitment to innovative and sustainable transportation solutions sets an inspiring precedent for the region and beyond.
Dubai-Sharjah Ferry: A Lifeline for Commuters:
The Dubai-Sharjah Ferry service is a groundbreaking initiative, marking the first marine transportation line connecting Dubai with other emirates. The ferry shuttles between Al Ghubaiba Marine Station in Dubai and Aquarium Marine Station in Sharjah, offer a seamless travel experience for passengers. The strategic collaboration between the Roads and Transport Authorities in Dubai and Sharjah underscores their commitment to enhancing inter-emirate connectivity and promoting sustainable transportation solutions.
Enhanced Convenience and Reduced Travel Time:
The Dubai-Sharjah Ferry offers a swift and enjoyable journey, with the trip between Al Ghubaiba Station and the Sharjah Aquarium Station taking approximately 35 minutes. On weekdays, commuters can choose from two-morning journeys departing from Sharjah at 7:00 and 8:30, along with a morning journey from Dubai at 7:45. In the evening, two journeys will be available from Sharjah at 16:45 and 18:15, with three journeys departing from Dubai at 16:00, 17:30, and 19:00.
During weekends, the ferry service will be operational with six journeys, three from each side, starting from noon. Departure times from Sharjah will be at 14:00, 16:00, and 18:00, while the journeys from Dubai will commence at 15:00, 17:00, and 20:00. This extended schedule caters to the diverse needs of commuters, allowing for flexibility in travel plans.
Affordable Fare Options for All:
The Dubai-Sharjah Ferry offers competitive ticket fares, with the Silver Class priced at 15 AED and the Gold Class at 25 AED for a single journey. Notably, the service is free of charge for People of Determination and children under five, ensuring inclusive accessibility for all passengers. Commuters can conveniently pay the fare at the Customers Services Desk at the station, utilize the nol card, or purchase tickets online through the official RTA website (https://marine.rta.ae).
Embracing a Sustainable Future:
The reintroduction of the Dubai-Sharjah Ferry aligns with Dubai's commitment to sustainability and environmental consciousness. By providing an efficient alternative to road-based transportation, the ferry service helps reduce carbon emissions and minimizes the environmental impact of commuting between the two emirates. Additionally, the utilization of Dubai Ferry's existing infrastructure ensures optimal resource allocation and efficient transportation operations.
The Long-Awaited Solution:
Dubai's Roads and Transport Authority's decision to resume the Dubai-Sharjah Ferry service comes as excellent news for commuters who regularly traverse between the two bustling cities. The infamous traffic congestion between Dubai and Sharjah has long been a challenge for daily travelers, impacting productivity and causing unnecessary delays. With the ferry service now back in operation, commuters can look forward to a comfortable and stress-free journey, bypassing the traffic gridlock.
Embracing Technology and Innovation:
As Dubai continues to evolve into a global hub for innovation, technology plays a significant role in enhancing transportation experiences. With the Dubai-Sharjah Ferry's resumption, the RTA embraces modernity, offering commuters state-of-the-art facilities, top-notch safety measures, and exceptional customer service. By combining cutting-edge technology with a commitment to excellence, the RTA aims to deliver an unmatched travel experience for all passengers.
So, if you have also been planning to travel between the two Emirates, make sure to pay the fare at Customer Service Desk at the station, use your nol card, or even buy the tickets online. Cover Image Courtesy: Twitter/rta_dubai